Introducing the ADMIRALTY Global Mangrove Data Set
UKHO Data Science and Data Engineering Teams have created a method to identify mangrove from satellite imagery. We now offer the world's highest resolution, most up-to-date global mangrove data set.
Body

"Natural barriers such as mangroves...are important for protecting human communities and infrastructure against the impacts associated with rising sea levels, larger waves and intensifying storms (high confidence)"
Body
Mangrove forests are an important part of coastal ecosystems.
Description
The importance of coastal habitats
Body
Scroll down to take a tour of the data set, and learn how we used artificial intelligence and data science techniques to ensure our analysis was automated, scalable and repeatable.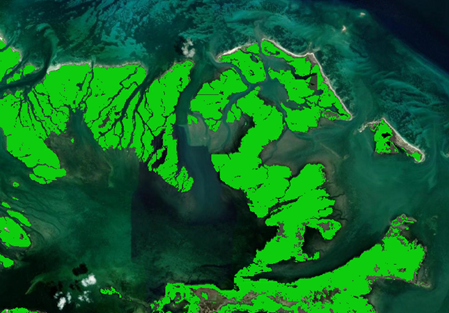 Try the data
To download an extract of the UKHO Global Mangrove Data Set, please visit the ADMIRALTY Marine Data Portal.
Click here to view the data
To learn more about the methods we used to create our Global Mangrove Data Set see our blog posts:
Scaling machine learning models across the globe
The Data Science team here at the UKHO specialises in applying the latest in machine learning and big data technologies to marine geospatial data. One of the challenges we face across the numerous projects and data types we work with is creating machine learning models that can scale to any geographical location around the world.
Creating a global data set
One of the roles of the Data Engineering team here at the UKHO is to take models and other deployable artefacts from the Data Science team, suitably deploy them, and make data sets with them. One such model was a U-Net, trained to detect mangrove forests.