Enabling you to make critical maritime decisions
Working with a wide range of data suppliers and partners to support the safety and security of maritime navigation and marine development around the UK and worldwide. We source, process, and provide access to location-based information, ranging from seabed to surface, and make it available and easily accessible through ADMIRALTY Maritime Data Solutions; our world-leading range of charts, publications, and custom data sets.
AVCS the world's most chosen ENC service for ECDIS
Body
Over 18,000 official Electronic Navigational Charts
The ADMIRALTY Vector Chart Service (AVCS) is the world's leading official digital maritime chart service, with over 18,000 official Electronic Navigational Charts (ENCs) to help bridge crews navigate safely and efficiently whilst meeting flag and port State requirements.
Available around the world
Features
Global maritime ENC coverage with more routes and ports than any other competing service
Unique ADMIRALTY Information Overlay (AIO) for additional passage planning information​​​​​​
Weekly updates available via email, online or on DVD to ensure ongoing safety and compliance
Delivered in industry standard S-63 / S-57 formats, guaranteeing compatibility with all ECDIS sold today – even in a mixed fleet
Online version now available for shore-based activities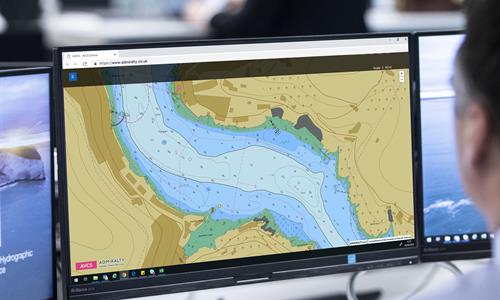 A new generation of data standards
Body
The maritime industry is witnessing a time of real transformation and innovation, changes are happening quickly and there is an understanding, industry-wide, that the future of the sector will be substantially redefined by the two forces of decarbonisation and digitalisation.
The next generation of navigation solutions will transform the way we use marine data – supporting safer, more efficient voyages, advancing the prospect of autonomous shipping, and underpinning an even wider range of decisions made by mariners and shore-based users.
S-100 will enrich the next generation of digital maritime products and services, enabling fleet operations and supply chains to work in closer harmony and unlock a new level of access, transparency, and support in near real-time.
Body
Discover the latest news and events
Title

ADMIRALTY Maritime Data Solutions
Body
Explore our range of products and services for safe, efficient and compliant navigation.
Body
You can purchase charts in AVCS as individual ENCs, or in folios covering a geographic region. These ENCs and folios, which are outlined below, can be purchased on a subscription basis for periods of 3, 6, 9, or 12 months where countries allow. Additional coverage can also be purchased at any time, and each chart has its own subscription period.
Choosing, ordering and m​​anaging AVCS
AVCS is sold through an international network of experienced and trusted distributors. Please contact your ADMIRALTY Distributor to discuss the right package of charts for you.
If you don't have a preferred distributor, then you can search a list of worldwide ADMIRALTY Distributors on our find an ADMIRALTY Distributor page.