Body
Additional Military Layers (AML) is a range of digital geospatial products designed to enhance situational awareness in the marine environment.
Endorsed by NATO and coordinated by the UKHO, AML provides tactical advantage in military and humanitarian operations by using geospatial intelligence. Offering a range of vector and gridded data sets, AML provides a unified, interoperable product that supports digital navigation, access and reach of maritime forces.
To provide feedback or to request further information on AML, please email aml@ukho.gov.uk.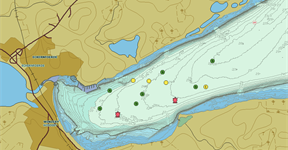 Portrayal specification
A portrayal specification, providing display rules and symbols for AML vector product specifications (supporting all versions), was endorsed by the NATO GMWG and published in June 2018. This builds on the IHO S-52 Presentation Library 4.0.0 and is available as a .dai file. It is intended to be implemented in systems such as WECDIS to enhance the display and usability of AML products. To obtain this specification please email aml@ukho.gov.uk.
Body
AML Product Specifications, Associated Documents
V3.0
Body
AML Handbook
The NATO AML Handbook provides general information about AML, including a brief explanation of the products and benefits to users. It is produced by the UK Hydrographic Office (UKHO) on behalf of NATO and replaces the AML Handbook which was last revised in January 2012. The Handbook is held, maintained, configuration controlled, published and distributed in digital format. Users are welcome to produce hardcopy versions for own use and for wider distribution, but should be aware that such hard copies will not be updated. Your contributions and comments are valued. To make contributions or comments on the Handbook, or to request further information, please email aml@ukho.gov.uk.