Helping mariners to navigate confidently
Body
Digital navigation allows today's mariners to navigate and dock vessels with even greater confidence and precision than ever before.
With the use of Electronic Chart Display and Information Systems (ECDIS), seafarers can navigate in real time using Electronic Navigational Charts (ENCs) from official services such as ADMIRALTY Vector Chart Service (AVCS).
When navigating with ECDIS, it's important that mariners are confident in interpreting ENC symbology and how it relates to the area in which they're operating. Below you can find information on how ENC symbols are displayed on ECDIS and useful resources to help you understand the symbols and abbreviations used in these charts.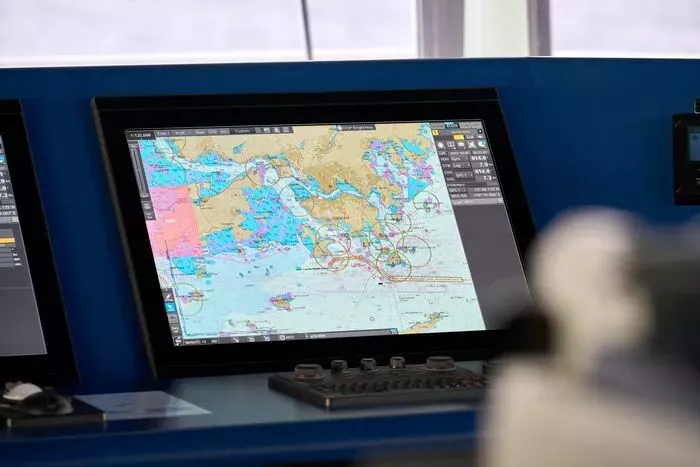 How are ENC symbols displayed on ECDIS?
Historically, it has been the task of highly skilled cartographers to present accurate and reliable information on ADMIRALTY paper charts. However, when it comes to ENCs, the responsibility for the portrayal of navigational information is controlled by the International Hydrographic Organization's S-52 standard.
S-52 is a standard used by ECDIS manufacturers that determines how ENC data is displayed on screen. This means that what the mariner sees on the screen is displayed in the same way across all type-approved makes and models of ECDIS. An important part of this standard is the S-52 Presentation Library 4.0.
What is the Presentation Library in ECDIS?
Body
The IHO S-52 Presentation Library contains instructions to ECDIS manufacturers for the 'drawing engine' within the ECDIS on how to display symbols, colours and line styles on the screen. For example, this could include the size and shape of particular symbols the mariner sees on their ENC.
It is essential for all users to make sure their ECDIS is using the latest Presentation Library to remain SOLAS-compliant. This ensures that all ENC symbols are appearing accurately and consistently on screen.
What is ECDIS Chart 1?
Body
ECDIS Chart 1 is a legend of the entire set of symbols that may be used within an ENC and is installed on all type-approved ECDIS systems. For a graphical way to establish whether your ECDIS is up to date, the mariner can use ECDIS Chart 1 to review the new symbols introduced in IHO S-52 Presentation Library Edition 4.0.
Understanding ENC symbols
Body
We've made available a number of guides to help you understand both the traditional and simplified forms of ENC symbols displayed in ECDIS. These are available as paper publications and as ADMIRALTY e-Nautical Publications:
ADMIRALTY Guide to ENC Symbols used in ECDIS (NP5012)
NP 5012 offers detailed explanations and descriptions of both traditional and simplified forms of ENC symbols displayed in ECDIS, ensuring bridge crews possess the knowledge needed to navigate safely.
Symbols and Abbreviations used on ADMIRALTY Paper Charts (NP5011)
NP 5011 can also be useful if you need to cross reference ENC symbols to the equivalent paper chart symbol.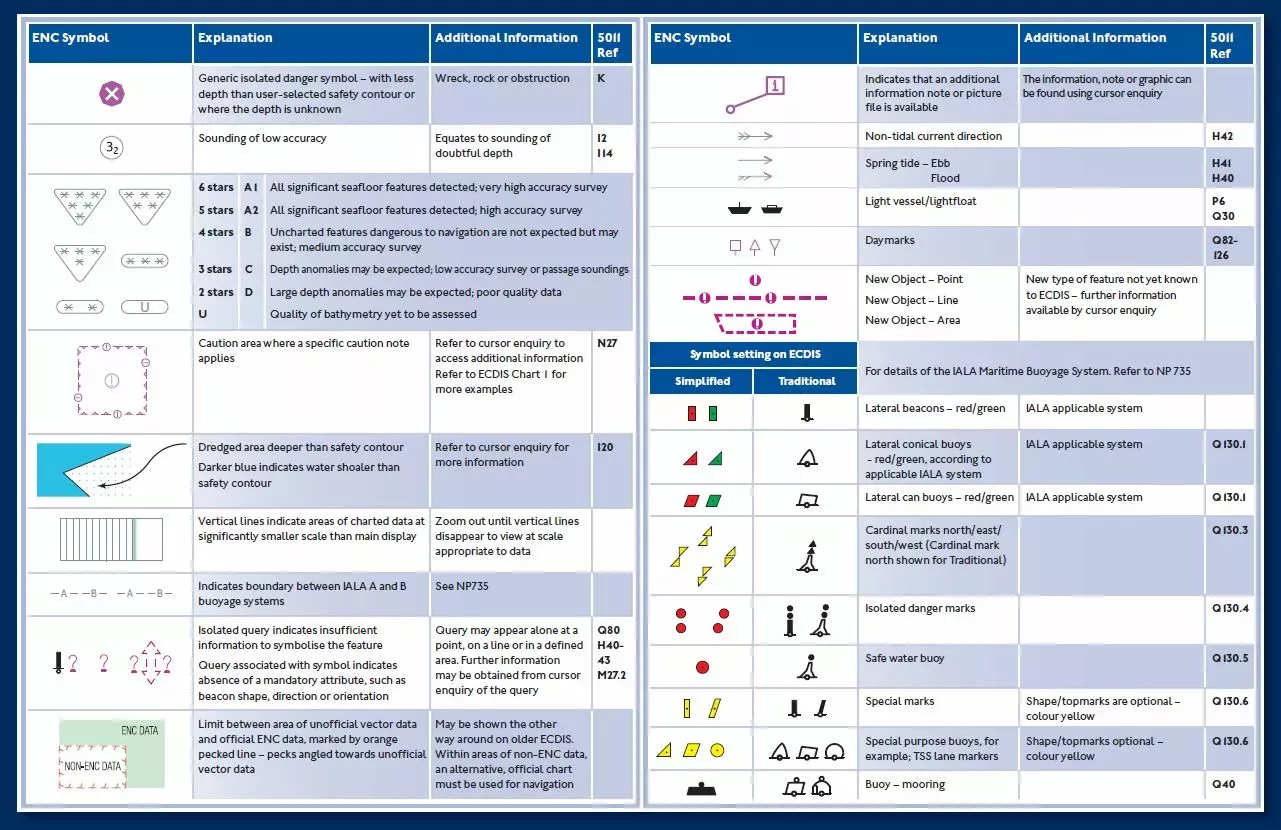 The quick guide to ENC symbols
We have also created the 'Quick Guide to ENC Symbols' as a free and easy-to-use reference guide that can help you to identify some of the lesser-known symbols found on ENCs.
Each symbol covered in this guide can be quickly interpreted using the image, explanation and additional information provided to support safe navigation using ECDIS.
Please note: ENC symbols shown in the 'Quick Guide to ENC Symbols' are shown in daytime colours and therefore may be shown in different colours/shades in night-time palette. The guide is not intended to replace ECDIS Chart 1.
Download the Quick Guide to ENC symbols (119KB Version)
Job description
Head of Technical Partnerships
Body
As Head of Technical Partnerships, Tom leads the UKHO's collaboration with technical partners including Original Equipment Manufacturers (OEMs) to enable the development of e-navigation products and S-100 solutions for Electronic Chart and Information Display Systems (ECDIS). Tom works at the forefront of the latest 'next generation' navigation technologies to support the implementation of new standards that can help improve safety, efficiency and optimisation.