High-speed, low-latency networks are vital to improving data exchange, ship-to-shore communications, and safety at sea. There are multiple benefits to be unlocked by advanced connectivity, which includes driving new products and services, enabling new and transforming existing operating models, and increasing time efficiencies across supply chains, amongst others.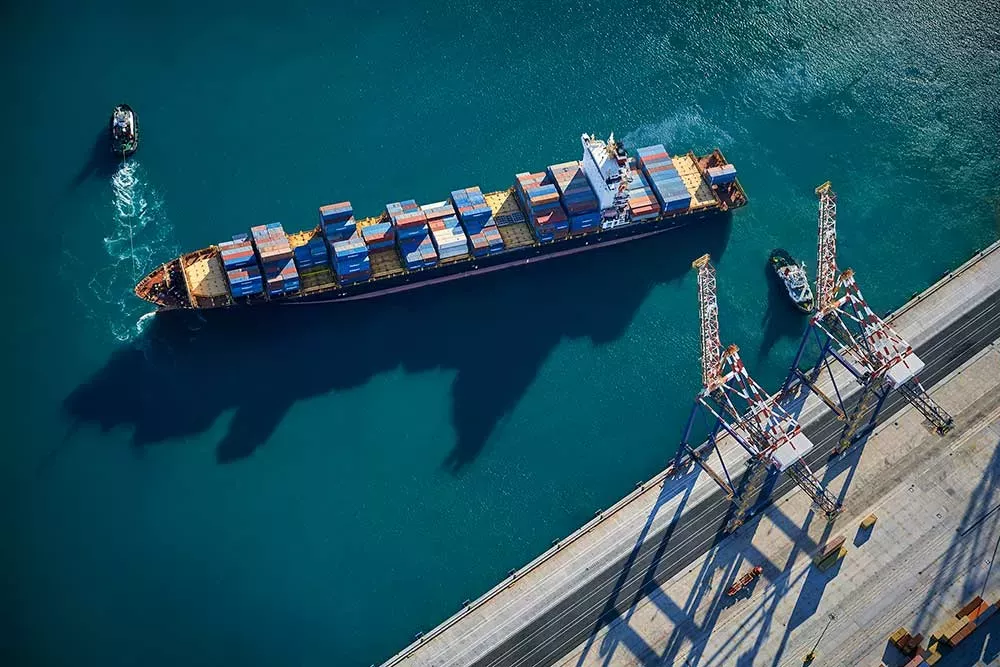 A multitude of sectors and industries have already benefitted from the advances in connectivity, not least the marine industry, where high-speed, low latency communication – which is defined as the ability for large data volumes to flow with minimal delay - is currently transforming the ways in which vessels, fleets, and shore communicate with each other. Even though shipping has traditionally been characterised by poor connectivity, technology is now enabling a connectivity revolution by improving data transmissions, navigation, and safety on board, as well as enabling much easier and streamlined ship-to-shore communication.
Body
This exciting topic was the focus of discussion at Posidonia last month, where UKHO's Tom Mellor, Senior Channel Technical Partnering Manager, and Carole Plessy, Head of Maritime at OneWeb, shared their views on how next generation connectivity will progress the future of navigation.
OneWeb's service, powered by low earth orbit (LEO) satellites, enhances seafarers' connectivity while enabling the technologies that support automatic navigational updates and inform decision-making in real time. In future, enterprise-grade connectivity networks will provide the interoperability required to meet the new S-100 data standards, which will underpin the next generation of navigational and hydrographic data products.
The benefits provided by S-100 include enhanced situational awareness, improved precision in navigation decisions, and safety through improved marine traffic management. This is all possible through the provision of bathymetric data with a higher degree of granularity which helps ships navigate more efficiently and supports Just-in-Time arrivals. S-100 data also allows ships to optimise their speed during the voyage so they can arrive at a port, or a pilot boarding place, knowing whether they can enter and dock at a berth without delay. This will eliminate the waiting time outside of ports for a berth to open and will allow ships to adjust, optimise and sail at an optimum speed throughout their journey, in turn reducing greenhouse gas emissions.
Making this happen is dependent on good data. We must be able to share up-to-date, reliable data about each vessel's location, speed, and cargo, as well as information about the ports that it will visit. With OneWeb's enhanced connectivity solution, the availability of pilots and berthing can be communicated frequently to the ship, thereby improving the master's decision-making regarding speed optimisation.
Initial analysis from the IMO's Global Industry Alliance and Port of Rotterdam showed that if all incoming container ships calling at the Dutch port in 2018 had known, 12 hours in advance, when a pilot would board, shipping emissions in the last 12 hours of the voyage could have been reduced by 4%. When applying this to larger portions of a voyage – days, and not hours – the possibilities to unlock even greater emission savings increase further.
Maritime companies that choose more advanced connectivity solutions will, over the coming years, see vast improvements in ship-to-shore communications, data exchanges, navigation, and safety, whilst also reducing its carbon emissions and impact on the environment. If adopted at a large scale, widespread, more advanced connectivity can help the shipping community make substantial progress towards the industry's decarbonisation.
Job description
Head of Technical Partnerships
Body
As Head of Technical Partnerships, Tom leads the UKHO's collaboration with technical partners including Original Equipment Manufacturers (OEMs) to enable the development of e-navigation products and S-100 solutions for Electronic Chart and Information Display Systems (ECDIS). Tom works at the forefront of the latest 'next generation' navigation technologies to support the implementation of new standards that can help improve safety, efficiency and optimisation.
Body
Hear more from Tom at our free Navigating the Maritime Future seminar at SMM Hamburg, 6 to 8 September 2022.
Find out more and register