S-100 Data Catalogue now available
We are continuing to expand and improve on our ADMIRALTY S-100 Data Service and have introduced a number of new features to help users search and find the S-100 trial data sets they need.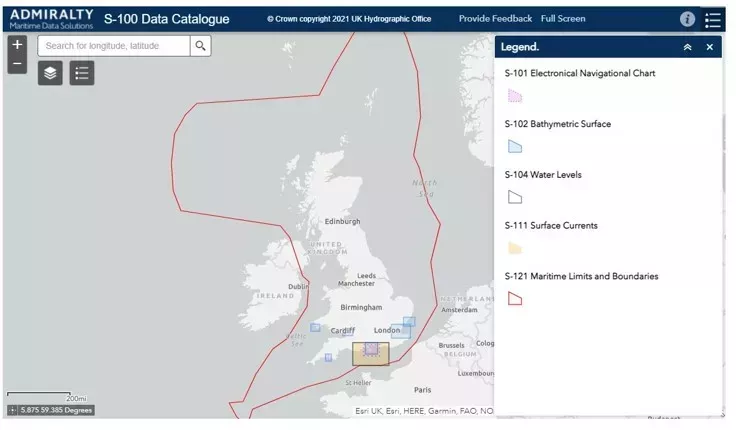 In response to further research and user feedback, we have created a new, on-line S-100 Data Catalogue with an enhanced range of data sets within the United Kingdom's Exclusive Economic Zone.
These S-100 trial data sets have been produced in line with the new International Hydrographic Organization's S-100 Data Framework and will become the new standard for digital navigation and enhanced situational awareness of the marine environment.
In the interests of improved decision-making in the marine environment, and to support the development, testing and use of future S-100 products and services, we have made these S-100 trial data sets available at no cost to the user.
Why we have developed an S-100 Data Catalogue
Body
Our S-100 Data Catalogue has been created to enable users to find, select and download the package of ADMIRALTY S-100 standard trial data sets we are making available, at no charge, to help support their development, testing and use of future S-100 products and services.
At the same time as expanding our S-100 data sets we are also improving the display of our geospatial data in a geographical view, which is also based on user feedback.
Our new S-100 Data Catalogue enables users to:
View the spatial extent of our S-100 trial data sets in a geographical format
Select and download the S-100 trial data sets they need by S-100 trial data set type, bounding box and geographical location
Switch layers on and off, so they can view either a single or multiple S-100 trial data sets
Expand to a Full Screen view via a link in the Information Panel
Provide Feedback via a link in the Information Panel
View the Terms and Conditions of our S-100 trial datasets in the Information Panel
The S-100 trial data sets are we making available
Body
We now have five trial data sets available in our S-100 Data Catalogue:
S-101 Electronic Navigational Charts S-102 Bathymetric Surface
S-104 Water Levels
S-111 Surface Currents
S-121 Maritime Limits and Boundaries
We published trial S-101 and S-102 data sets in January 2021, S-104 and S-111 in April 2021 and S-121 in October 2021. We have become the first hydrographic office to produce an S-121 data set, which supports users who need knowledge of maritime limits, zones and boundaries, in the new S-121 edition 1.0 standard.
Where you can find the data sets and more information
Body
The data sets, access to open source S-100 software and resources, and further information, are available from our S-100 area of the ADMIRALTY Marine Data Portal.
We value your feedback
Body
We are constantly working on improving the experience and quality of our ADMIRALTY S-100 trial data sets. The feedback you provide is helping us to shape this data service and enabling us to share learnings with our collaborative partners. They include the global hydrographic community, maritime industry and these data sets can also support the United Nations' Decade of Ocean Science for Sustainable Development.
Please continue to send us your feedback to: products.feedback@ukho.gov.uk