What is S-100?
Body
S-100 works to establish data standards for digital navigation and will transform the way marine geospatial data is shared and used to make navigation-related decisions at sea.
The S-100 framework covers a wide range of data sets with a huge number of applications. For example, through our ADMIRALTY Marine Data Portal we've already made available trial data sets for S-101 (Electronic Navigational Charts) and S-102 (bathymetric surface) covering the Solent and approaches.
Now, we're pleased to share that further S-100 framework trial data sets are now available for S-104 and S-111, offering users valuable water level height and surface current information respectively.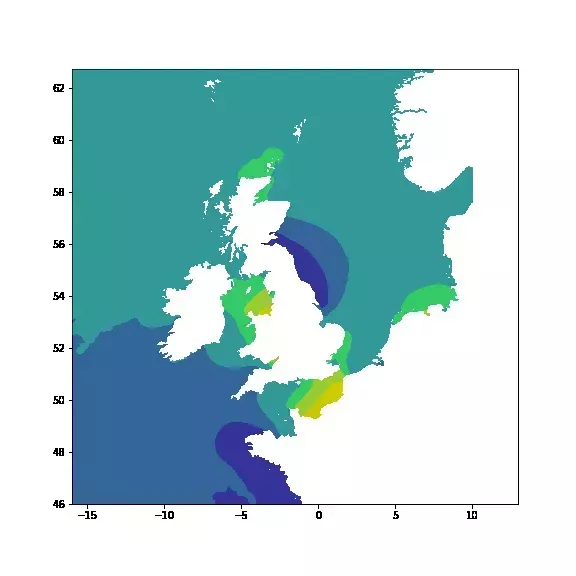 S-104 – Water Levels for Surface Navigation
S-104 is the new IHO standard and product specification that covers water levels for surface navigation.
As such, the S-104 trial data set comprises astronomical tidal height predictions and forecasted water level data. The data set offers point and gridded – both regular and irregular – real-time, predicted and forecast data. All this data is gathered and compiled into HDF5 file format and stored alongside associated metadata, which generally describes the characteristics of the water level data.
For real-time data, the UKHO worked with OceanWise to investigate the data they gather from a single port authority through their Port-Log system. The real-time data centres on ports administered by the Peel Ports Group, which operates a large group of ports across the UK.
Due to changes in the S-104 product specification, we have not published S-104 data related to live tidal heights. There is still a large set of unknowns when working with dissemination and publication of live S-104 tidal data, however we do believe it has the potential to bring safety and efficiency gains for the mariner. We will look to investigate this area further when later versions of the product specification are published.
For forecast data, we've used a model from the Met Office, which comprises an ocean assimilation model with tides at 1.5 km horizontal resolution, coupled with a wave model. We have applied a trend to both the forecast water level and astronomical tidal heights data in our trial S-104 data set, controlled by a 'Water Level Trend Threshold' in metres per hour – this helps to determine if the tidal level is increasing, decreasing or remaining steady.
Description
Video showing tidal height changes for the Solent region over time
S-111 Surface currents
Body
Accompanying S-104 is S-111: the new IHO standard and product specification for surface currents, which is the horizontal movement of water represented by both speed and direction. In addition to point data, S-111 also provides a standard for regularly gridded data of surface current rates and directions as a time series.
The S-111 data set uses the same model as our new S-104 data set and provides surface currents in 15-minute intervals at 1.5 km horizontal resolution. This surface current data provides forecast predictions for regular gridded points around the Solent region.
Description
Video showing surface current data for Southampton and Isle of Wight
Supporting the development of S-100
Body
S-104 and S-111 both facilitate the transfer and exchange of tidal information and standardise how tidal data can be integrated into an Electronic Chart Display and Information System (ECDIS) and have the potential to bring huge benefits to the mariner. By integrating with other standards in the S-100 family, we hope to improve safety and efficiency, helping users with tasks such as under keel clearance and no-go areas.
Both the S-104 and S-111 trial data sets for the Solent region have now been published on our ADMIRALTY Marine Data Portal. Access to these new data sets now will also continue to support ECDIS manufacturers and other non-navigational sectors as they prepare for the change to S-100.
If you have any questions about the new S-104 and S-111 trial data sets – or any of the existing S-100 portfolio data sets on the ADMIRALTY Marine Data Portal – please contact Customer Services.
To find out more about S-100 and innovation in the maritime industry, visit our new website.
Body

This blog was written by Christopher Jones, Tides Technical Lead and Dave Chapman and Michael Davies, Geospatial Developers at the UKHO.