What is a green shipping corridor?
A green shipping corridor is a route between two or more ports where zero-emission shipping solutions are demonstrated and reported. This is achieved through the advancement of technological, commercial, or regulatory initiatives along the route.
Body
A green corridor is not a strict set of rules. Rather, it is a carefully designed ecosystem of change factors, similar to a special economic zone. These factors include port and ship technology, fuel usage, and voyage optimisation. Green corridors can operate domestically, short-sea or across continents and across multiple ports.
To succeed, green routes are optimised through the combined efforts of private operators and public authorities. Public investment, extension of fossil fuel subsidies to zero-emission fuels, and targeted policies that introduce best practice guidelines all help incentivise the adoption of new technologies and our shared decarbonisation goals.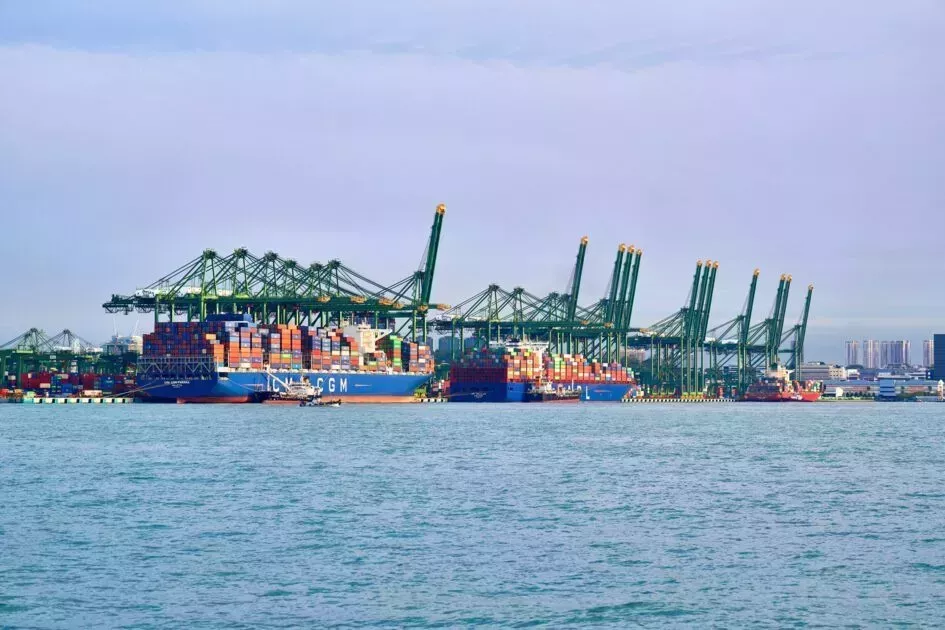 Why are green shipping routes important?
Global trade is growing, and shipping accounts for 80% of it. The shipping industry emits around 3% of all global greenhouse emissions; in terms of CO2 emissions alone, it is estimated that 1 billion metric tonnes are emitted annually. Therefore, intervention is critical to prevent emissions from increasing.
To help achieve this, the International Maritime Organization has set a target to reduce emissions by at least 50% by 2050. This requires innovation, investment, and infrastructure, all of which are essential for activating this monumental change, and in the shipping industry collectively reducing emissions by 2050.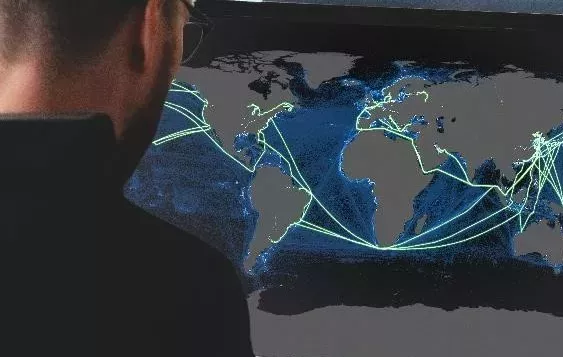 It is estimated that 5% of shipping will need to be operating on zero-emission fuels by 2030 to help reach the 2050 target. Green shipping corridors have been identified as a key component to this by creating an environment that facilitates cross sector partnerships and stakeholders, this will help drive policy change, generate innovation, and stimulate the next phase of developments.
Private operators and public authorities are likely to find it difficult and costly to deviate from today's norm. Therefore, collaboration is needed with all stakeholders, across the entire value chain, for this to be achieved. These stakeholders include governments and authorities, port and ship operators, freight companies and local communities living near or around ports.
What are the benefits of a green shipping corridor?
Body
Green shipping corridors will be key to supporting decarbonisation of the shipping industry, bringing benefits to a wide range of stakeholders from ship and port operators to consumers and local communities. These include crucial environmental benefits such as increased biodiversity and a cleaner marine environment, as well as economic savings from reduced running costs and shorter anchorage times. These benefits can be achieved by using technology and automation.
Technological advancements will allow for more accurate arrival times, improved operational efficiency and greater productivity through 'Just-in-Time' arrivals. This, in turn, will reduce the carbon footprint of goods and help fulfil national emission reduction targets.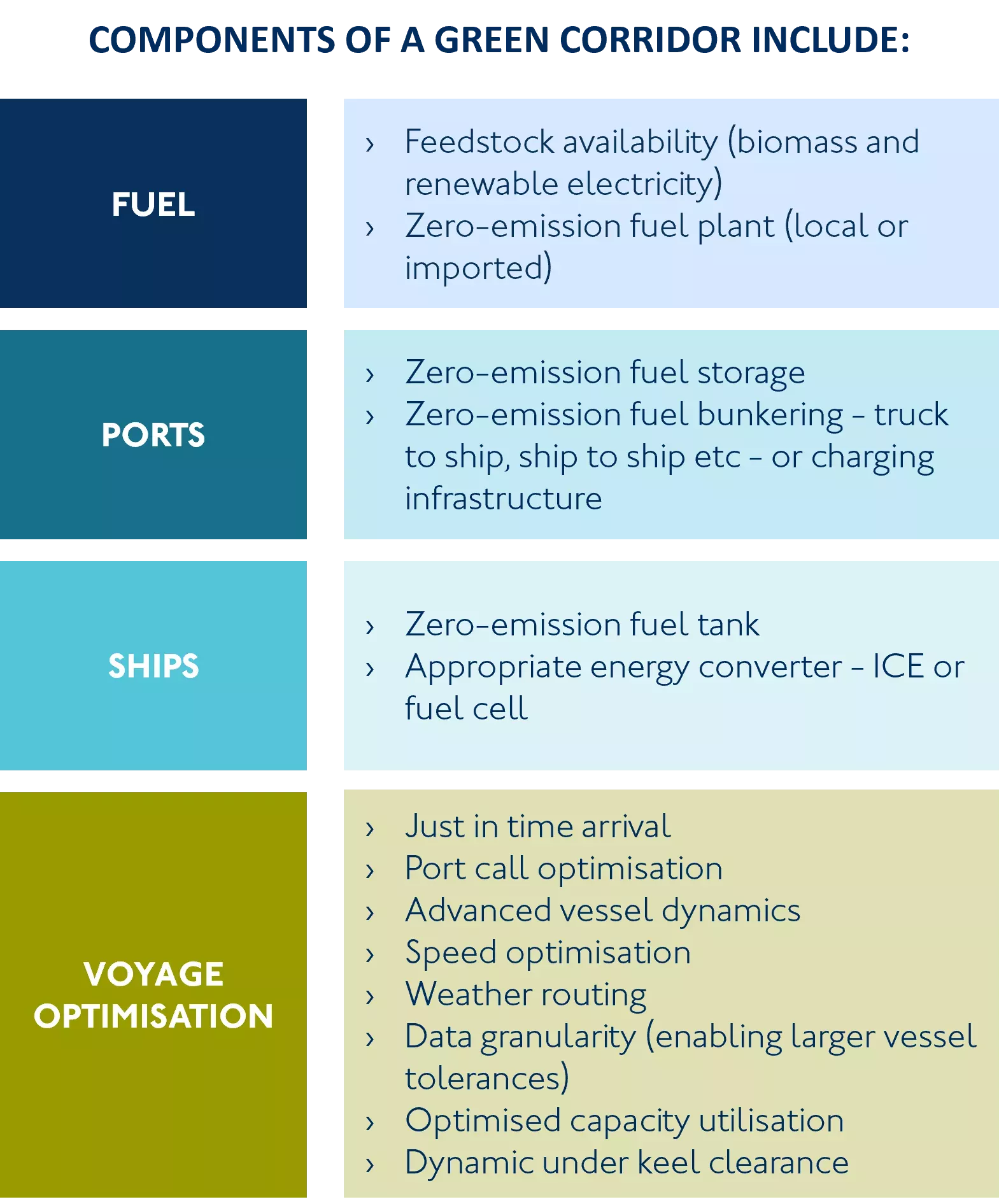 What are the components of a green shipping route?
Key areas of focus for green shipping routes include:
Fuel (zero-emissions fuels, including renewable energy for electric vessels)
Ports (infrastructure development to support fuel storage and bunkering)
Ships (technological development)
Voyage optimisation (including Just in Time arrivals, port optimisation and advanced vessel dynamics)
The focus on certain components will vary depending on the scenario; not all features are necessary to create a green shipping route. For example, fuel, ports, and ships are essential for zero emissions, whereas voyage optimisation can help reduce fuel use but is not essential to achieve zero-emissions.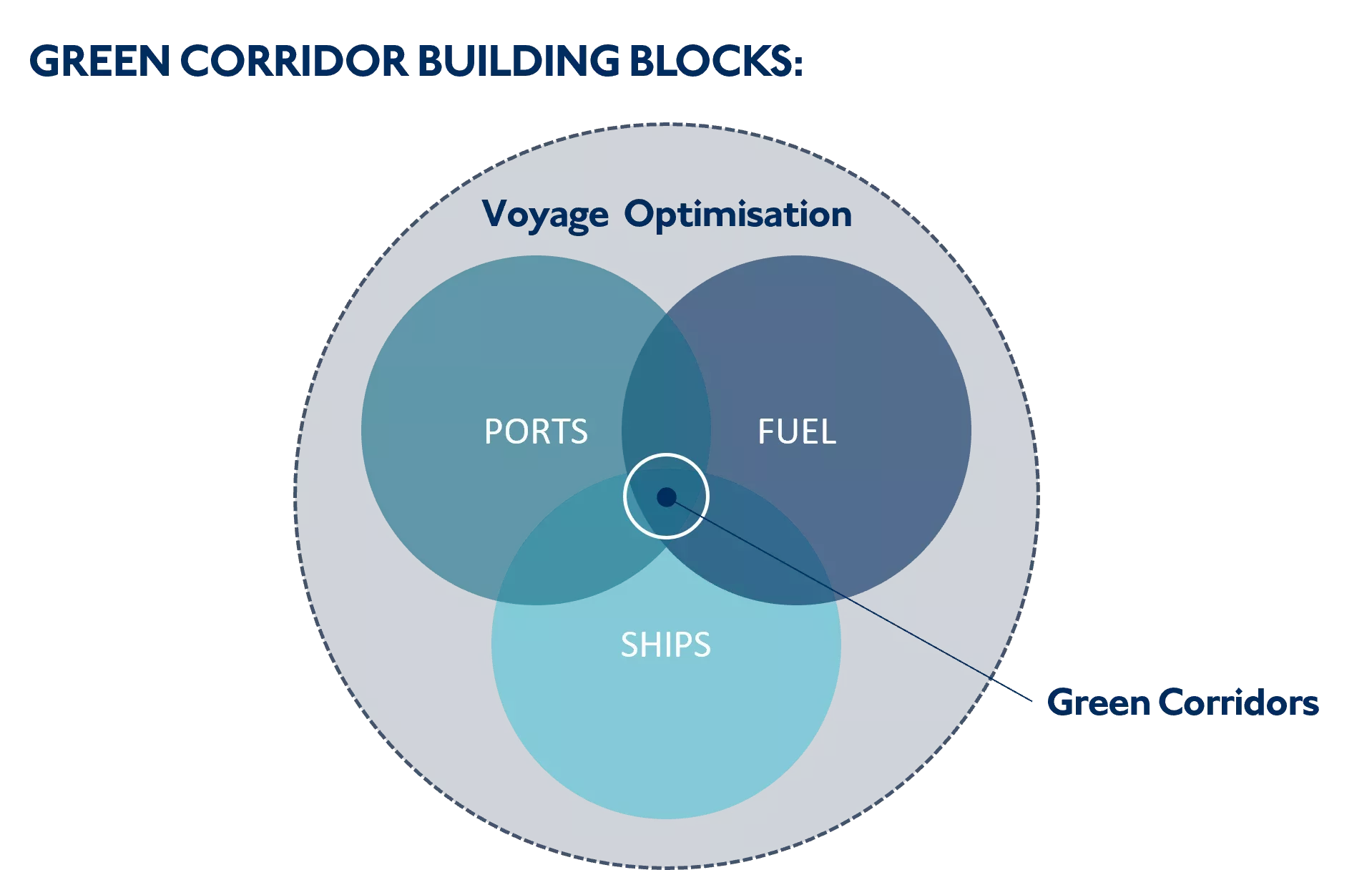 Voyage optimisation techniques, advancements in ship design, and fuel efficiency innovations are already having a tangible positive impact. However, these initiatives alone will not completely decarbonise the shipping industry.
Establishing green corridors will require coordinated effort across multiple industries and governments along the route. This will include the need for collaboration between fuel producers, ship operators and cargo owners, as well as the creation of a new value chain – with new regulations, contracts, policies, and facilities to enable the safe operation of green fuels.
How can marine geospatial data support decarbonisation efforts?
Body
Marine geospatial data provides owners and mariners with a comprehensive view of the marine environment. This data can prove invaluable for planning, monitoring and optimising performance. For example, timely data on surface currents, water levels and bathymetry can enable vessels to be more efficiently laden to maximum capacity for the destinations they visit and allow accurate and extended voyage time for port entry, exit and loading.
By harnessing the power of a wealth of marine geospatial data, the UKHO is supporting a range of initiatives to support voyage optimisation, promote a more sustainable maritime industry and to help achieve our shared decarbonisation goals for global shipping.
Find out more about these initiatives and how we are collaborating across the i…
Read more about how we are supporting sustainability